From Sunday, May 06, 2018
To Sunday, May 13, 2018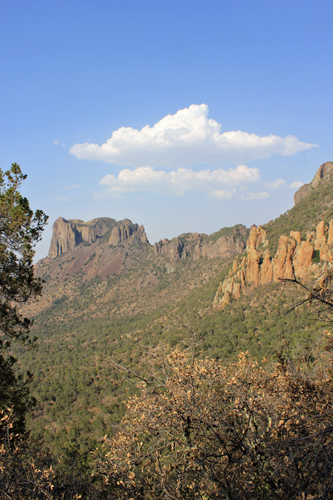 Encompassing some 775,000 acres or approximately 1200 square miles, Big Bend National Park preserves an area where the United States border along the Río Grande sweeps deep into Mexico. The Chisos Mountains stand sentinel 6,000 feet above the surrounding Chihuahuan Desert. In lush pockets of woodland along its sculpted crest lies the only U.S. nesting habitat of the Colima Warbler. Aside from the Colima Warbler, the high Chisos also afford refuge for island populations of Zone-tailed Hawk, Blue-throated Hummingbird, Cordilleran Flycatcher, Painted Redstart, and Hepatic Tanager. An all-day hike to Boot Spring can produce these and other Southwest species. Lucifer Hummingbird, Mexican Jay, Gray Vireo, Varied Bunting, and Black-chinned Sparrow all occur in the foothills of the craggy Chisos. Other Tex-Mexican specialties are more apt to appear in the islands of cottonwoods that flank the Río Grande. Regularly-occurring riparian species we'll search for here include: Gray Hawk, Inca Dove, Elf Owl, Golden-fronted Woodpecker, Vermilion Flycatcher, Bell's Vireo, Pyrrhuloxia, and both Orchard and Hooded Orioles. Along the 107-mile-long portion of the river that forms the Park boundary we'll visit both the Río Grande Village and the gorgeous Santa Elena Canyon—excellent for Peregrine Falcon. Based at the cool, mile-high Chisos Basin Lodge, we'll have four evenings to enjoy the deepening shadows slipping down the mountainsides from the outdoor deck of our comfortable accommodations. Both birds and mammals such as Collared Peccary and the small, Sierra del Carmen subspecies of the Whitetail Deer are common in the Chisos Basin. Approximately the same elevation but far-better vegetated than the Chisos Mountains, the scenic Davis Mountains afford us road access to shady stands of Sierra Madrean pine-oak woodland and Rocky Mountain Ponderosa pine. Famous as probably the most reliable location for Montezuma Quail in the U.S., the Davis Mountains also shelter a diverse community of birds. Again this year we will visit an area off-limits to the general public to look for a suite of birds that are otherwise almost impossible to see elsewhere in Texas. Among these are Buff-breasted Flycatcher, Mountain Chickadee, Grace's Warbler, and wandering Red Crossbills. Our night in the Davis Mountains is at the beautifully furnished and wonderfully comfortable historic Hotel Limpia. The last afternoon will take us back across the Permian Basin, where we'll check a local reservoir for Western and Clark's Grebes, as well as American Avocet and Cave Swallow. We'll bookend this unforgettable trip to West Texas with our first and final nights in Midland.
Our Edwards Plateau pre-tour (May 4-6, 2018) will take in the famous Texas Hill Country. A vast limestone block of lovely rolling hills drained by well-wooded valleys, the Edwards Plateau is a blending zone for Eastern and Western avifaunas. Visiting such locations as Lost Maples State Natural Area we'll have an excellent opportunity to record such east-west species counterparts as Ruby-throated and Black-chinned Hummingbirds, Carolina and Canyon Wrens, and Long-billed and Curve-billed Thrashers. This is also the single best area in Texas for Black-capped Vireos and Golden-cheeked Warblers. Add Green Kingfishers patrolling the crystalline streams and Cave Swallows spiraling out of the same crevices that shelter over 10 million Mexican Free-tailed Bats, and it is easy to understand the magnetic pull of the Hill Country.
Leader: John Yerger

Cost of West Texas: Big Bend & the Davis Mountains (May 6-13, 2018) includes all transportation, lodging, meals, and entrances beginning and ending in Midland, Texas—$2395.
Cost of West Texas combined with Edwards Plateau pre-tour (May 4-13, 2018), beginning in San Antonio and ending in Midland, Texas —$3095. Note: most major airlines will book an arrival in San Antonio with departure from Midland for the same fare as a roundtrip ticket.
Photo: Casa Grande vista en route to Colima Warbler, Big Bend National Park
Photo by: John Yerger