From Saturday, March 24, 2018
To Friday, March 30, 2018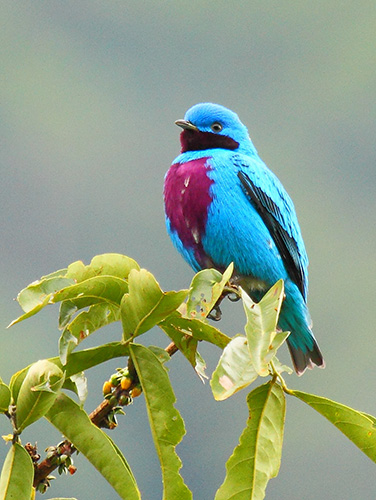 Perhaps you've savored a week in San Blas, Nayarit, plowing through the West Mexican endemics, all the while based in one delightful hotel and working your way through Betty's wonderful menu. A week at The Lodge at Pico Bonito in Honduras is the east coast mirror of that experience, with an entirely different suite of birds. The Lodge itself is a modern facility situated on 400 acres of prime birding habitat. Tropical birds abound on the grounds, and field trips to the nearby coast and mountains encompassed by Pico Bonito National Park all lie with easy reach. Public and private wildlife refuges and botanical gardens are also on the docket. A multitude of toucans, trogons, and dazzling neon tanagers will elicit sighs, mews, and even gasps of delight, and there is no better location in Central America for the velvet purple and royal blue tree ornament that is a Lovely Cotinga. A visit to one of the three observation towers onsite should reveal this and many other canopy-dwelling gems best enjoyed from a lofty locale. Not all the birds will come as easily, of course, but with luck we may encounter Ornate Hawk-Eagle, Spectacled Owl, Great Potoo, Purple-crowned Fairy, American Pygmy Kingfisher, Turqoise-browed Motmot, and Chestnut-colored Woodpecker. At Pico Bonito we have a realistic chance of seeing all of them. The extremely local and endemic Honduran Emerald will lead us to its nearby cactus-clad haunts that seem so improbable juxtaposed with Pico Bonito's towering rain forests. If a relaxing week in a luxuriant eco-lodge surrounded by a tropical tapestry of bird song appeals, please join us this winter in a birder's paradise at Pico Bonito Lodge.
Adding extra days before arriving at the Lodge at Pico Bonito on our Highlands & Copán Ruins pre-tour allows us to add up to 200 species to the entire Honduras experience! We'll begin at a simple but comfortable inn near the entrance of La Tigra National Park. Relatively easy, open trails make for a great birding experience here, as does access to bromeliad-laden cloud forest and pine-oak woodland. Resplendent Quetzal, for example, is quite likely to grace us with its presence at the expansive La Tigra, the first national park established in Honduras. Singing Quail, Wine-throated Hummingbird, Azure-crowned Hummingbird, Bushy-crested Jay, Blue-and-white Mockingbird and Ruddy-capped Nightingale-Thrush are just a few other possibilities. It's amazing to think all of this natural splendor lies only 30 minutes from our arrival airport in the capital city of Tegucigalpa! We'll spend our next two nights at the Panacam Lodge, shrouded in lush cloud forest. In the Panacam lowlands, we'll seek Prevost's Ground-Sparrow and the black velvet Passerini's Tanager, with its intensely scarlet rump. Birding near Lake Yojoa, bordered by the impressively steep mountains of Cerro Azul National Park, may produce the seldom seen Keel-billed and Tody Motmots, the most occult members of their tribe. Black-crested Coquette and Spectacled Foliage-Gleaner are two other charismatic species we'll seek. After absorbing a panoply of color at Panacam, we proceed onward to the equally bird-soaked region around the famous Mayan ruins at Copán. Occupied for more than two thousand years, from 5th to 9th centuries A.D., Copán was the capital city of a major Classic period kingdom. Images of the Scarlet Macaw are carved into stone throughout the complex, and efforts are underway to reintroduce this breathtaking species into the area. Featuring a well-preserved acropolis, ballcourt, hieroglyphic stairway, and impressive portrait stelae, a tour of this Mayan site will provide a foundation to understanding both the avifauna and the human culture of present-day Honduras.
Leader: John Yerger
Cost of our Honduras: The Lodge at Pico Bonito tour includes all meals and accommodations, all entrance fees, and all transportation beginning and ending in San Pedro Sula—$2695.
Cost of the Honduran Highlands pre-tour includes all meals and accommodations, all entrance fees, and all transportation beginning and ending in Tegucigalpa and ending in San Pedro Sula—$2395.
Photo: Lovely Cotinga
Photo by: James Adams, copyright The Lodge at Pico Bonito