From Saturday, July 14, 2018
To Saturday, July 21, 2018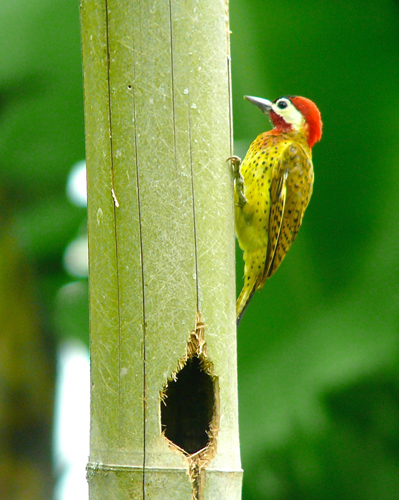 Adventure-seekers have long navigated the 30,000 miles from Alaska to Tierra del Fuego, following the legendary Pan-American Highway. But the road abruptly stops in Eastern Panama and the next 99 miles is an undulating green fabric where the earth primeval has successfully withstood the onslaught of chainsaw and asphalt. This region is known as "The Darién." The same mountains, forests and wetlands that have foreclosed all road-construction between Panama and Colombia have created a de facto wilderness. Here, among the largest primary forest tracts in Panama, live avian treasures that have been eliminated everywhere else in Central America, and throughout most of South America, too. White-headed Wren, considered uncommon throughout much of its limited range, is frequently seen on the grounds of the Canopy Camp. The towering forest of Filo del Tallo Hydrological Reserve envelops the Camp, offering such regional specialties as Gray-cheeked Nunlet, Rufous-tailed Jacamar, and Pale-bellied Hermit. Stepping onto the trails here can yield such winged ornaments as White-bellied Antbird, Golden-headed Manakin, and Royal Flycatcher, with real chances for the elusive Tiny Hawk, an accipiter no larger than a robin. Red-throated Caracara—here in its last stronghold—and King Vulture can often be seen flying over the adjacent clearings. Other fabulous birding options exist within 30 to 60 minute drives from the Camp. At Yaviza, the easternmost terminus of the Pan-American Highway, possibilities include Jet Antbird, Pied Water-Tyrant, the range-restricted Black Oropendola, Black-capped Donacobius, Red-breasted Blackbird, and Pearl Kite—the smallest Neotropical raptor. Full day outings in the environs of the Rio Tuquesa can yield such tantalizing species as Spectacled Parrotlet, Bare-crowned and Chestnut-backed Antbirds, Moustached Antwren, Black-bellied Wren, Orange-crowned Oriole, and charismatic birds such as Black Hawk-Eagle, Chestnut-fronted Macaw, Red-billed Scythebill and the exquisite Blue Cotinga, attired in turquoise so rich it is simply hypnotic. A visit to the property of the Tierra Nueva Foundation offers possible rewards like Slaty-backed Forest-Falcon, Red-rumped Woodpecker, Cinnamon Becard, Yellow-breasted and Black-billed flycatchers, White-eared Conebill, and even a chance for Great Currasow. Perhaps the most impressive aspect of our visit to this remote region is the level of comfort provided at the Canopy Camp itself. Situated only 1.5 miles off the Pan-American Highway, spacious, safari-style permanent tents are set atop raised platforms and furnished with locally harvested teak flooring in the bedrooms and en suite bathrooms. Afternoon siestas can be spent reclining in chairs on the private deck for each tent, or slung in a hammock under the eaves of the open-air lounge area. Sequestered in spectacular lowland rainforest and providing creature comforts unmatched in the region, the Canopy Camp offers a superb base for exploration of the wilderness land bridge which unites the whole of the Western Hemisphere.
Leaders: Panamanian leader & John Yerger
Cost of Panama: Canopy Camp (July 14-21, 2018) includes all accommodations, all meals, all transportation, and all entrances beginning and ending in Panama City, Panama—$2795.
TO REGISTER: Print out a PDF Registration Form, call us at (520) 558-2351 or This email address is being protected from spambots. You need JavaScript enabled to view it..
See also: Panama: Canopy Tower & Canopy Lodge (July 21-30, 2018)
Photo: Spot-breasted Woodpecker
Photo by: Rick Taylor